What do I need to know?
We'll be meeting weekly indoors at Rocky Run Elementary School (95 Reservoir Road Fredericksburg VA 22406) starting at 10:30 am on Sunday, August 8.
Here's all you need to do:
Be all in (fully engaged by connecting in a group, giving, inviting, and serving).
Enjoy regathering!
What will happen as we regather:
Setup starts at 8:30 am
We encourage attenders to arrive around 10:15 am, especially to check-in the kids
Sing (or listen) to 3-4 songs performed live
Live message
Reflection or commitment time
Hang out and take down
What is the COVID-19 protocol?
We encourage personal responsibility, which means doing everything you can to keep others safe. An example would be if you're unable to get out of bed on Sunday because you are sick, personal responsibility would be stay home and get better.
68% of our adults and students are fully vaccinated. 82% of our adults and students have had COVID or have been vaccinated. Some families wear masks and others do not. We offer PPE on site for those who request (hand sanitizer, disposal masks).
Is childcare provided?
Yes. We will be re-opening our children and student environments.
Do you have a picture of where environments are located?
Sure do. Take a glance at the picture below. Please note that we'll be able to offer handicap parking at the side parking lot right outside of Entrance #2, along with 8 additional parking spaces.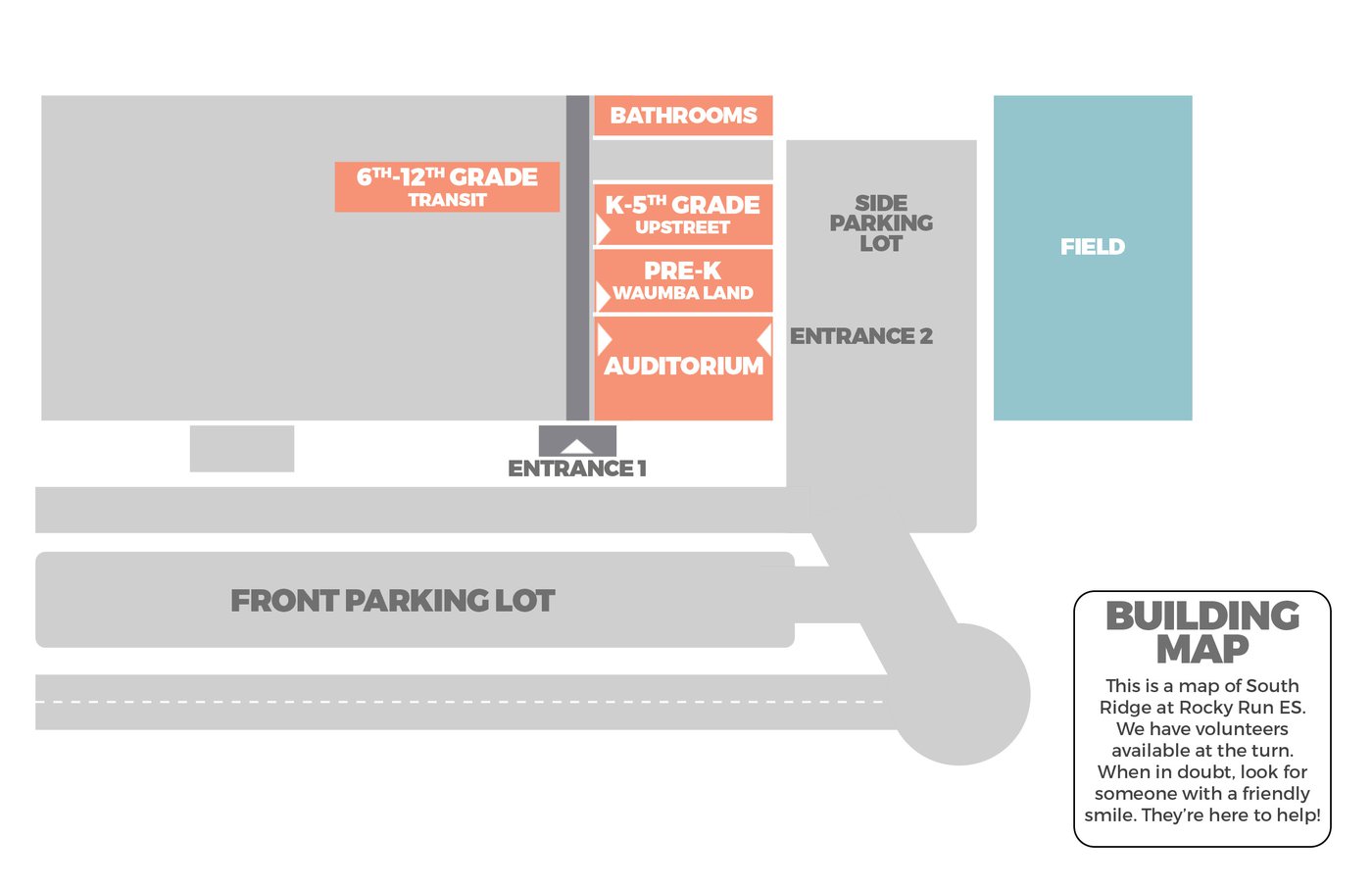 Will the online campus still be open?
Yes. The online campus is meant for digital engagement. It is more than just livestream or on-demand.
For three reasons:
Provide a campus for those unable to attend in-person on Sundays;
Provide on-demand parent resources for pre-K through 12th grade; and,
Provide a campus for those who are new to church, specifically South Ridge Church